June 4th , 2015 → 4:28 pm @ Sitges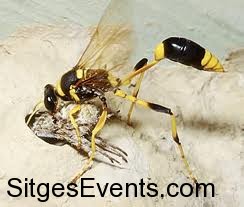 OK, you are visited by a big long leg (legged) yellow and black hornet wasp or dragon fly like flying insect (Mud Dauber).
(that takes care of all the search engine keywords)
Seen in Spain (Barcelona Sitges)
And, you are kind enough to want to check whether you are forced to kill it. Thankfully you are not.
THEY ARE RARELY AGGRESSIVE OR STING HUMANS
So the web says, and only do so if roughly handled!
We had unfortunately already warded of a few, with fly spray, before an exhaustive search found the information below. But they were ok. (if links fail, search for Mud Dauber, now you know their name!)
No insects were harmed in making this article, just made a bit dizzy. Which is good as they kill spiders, not that we don't try and release them unharmed too!
We do not guarantee anything.