Sitges
There is a wide range of accommodation in Sitges & Sitges Hills.
Primarily apartments at the lower end and a lesser number of houses (Villas) at the higher end. Along with larger apartments (flats) and obviously anything on the coast (first line). With views of the Mediterranean sea or close to it.
West to East (left to right)
Terramar is in the West, to the furthest left of Sitges bay (coastal strip).
It can be recognised by the big Terramar Hotel which is a fair walk to Sitges Town, but the area hosts the largest amount of millionaire homes!
Many 'first line' opposite the promenade & beach are spectacular. With historic ones going back to the time successful Sitgean 'Americanos' returned flush with earnings from Cuba & Puerto Rico (Americas & Caribbean Islands, West Indies).
Lots of other villas set out within layers of roads behind, are similarly upper priced, but no more than most exclusive areas in European locations. Providing many properties for families, many with gardens & terraces.

This residential area stretches to midway along the promenade.
With an increasing number of apartments (flats), as one moves towards the town end of Sitges, along with a number of hotels.
The end of this section, does have other residential areas, set much further back over the main road (between it & the railway).
A mix of accommodation, mostly apartments & many new.
Offering cheaper options, but still in reasonable walking distance to the beach (10 mins). Via the various residential roads that criss cross & lead to the promenade & beach
The next landmarks are big hotels that sit astride the main road that leads down to the beach area (from the main road that goes through town).
Here begins tourist part of town, intermingled with residential apartments (& occasional surviving villas, behind big walls)
Parking gets harder, for those without their own & the shopping area begins.  Along with 100's of Restaurants & Bars.
Within the town, apartments rarely have a garden, but some have terraces over an enclosed central square. With some greenery, if one is lucky.
The areas surrounding Sin Street, the pedestrian road of bars, have almost no outside areas on the ground. With buildings extending from one road to the next.
Behind this whole 'town' area, across the main road running across Sitges & the Railway is an equally big residential area. Making up half of Sitges. A longer walk to the action & sea, so often much cheaper. But filled with the shops, services, public amenities & resources a town needs.
Sitges Railway Station sits between the two zones.
The next area at the edge of Sitges main town, but still part of it, is the Historic Gothic part of Sitges. With the historic buildings & museums. Surrounding Sitges iconic Church.
There are apartments amongst the these buildings & a some holiday accommodation
The town is slimmed down by the course of coast & railway line, at this point. As we reach the last quarter of Sitges, to the East of town.
It turns back into a residential area, with mostly apartments.
Some run alongside the railway, which drops deeper into the ground the further East ones goes.
The sea is within short walking distance to most roads in this district, at it surrounds San Sebastian Bay, with it's pedestrian promenade of Restaurants & one Hotel.
Making it pricier & perfect for holiday makers.
Ditto for the next area, which is dominated by bigger blocks, many in earshot of the railway (even though it sits well below street level), but with lovely gardens.
Popular for locals & visitors.
The area accommodates Sitges only semi Nudist 'Family' Beach. Semi, as it is frequented by as many dressed as there are naked. There is a Restaurant, plus a beach bar. Common amongst Sitges beaches, but quainter than most, with it's Hawaiian style.
There are also a couple of popular local Restaurants further in from the beach.
Plus a big supermarket, amongst residential accommodation, further back, on the other side of the railway lines.
At the furthest East of Sitges, we reach a similar area. With the Marina (Port d'Aiguadolç), extending into the sea.
Bigger blocks, surrounding the massive Melia Hotel, but then many bigger pricier apartments overlooking the Marina & sea. Along with a few villas, hidden away.
Port d'Aiguadolç itself, has a large community build between it's two Hotels, behind the rows of Restaurants.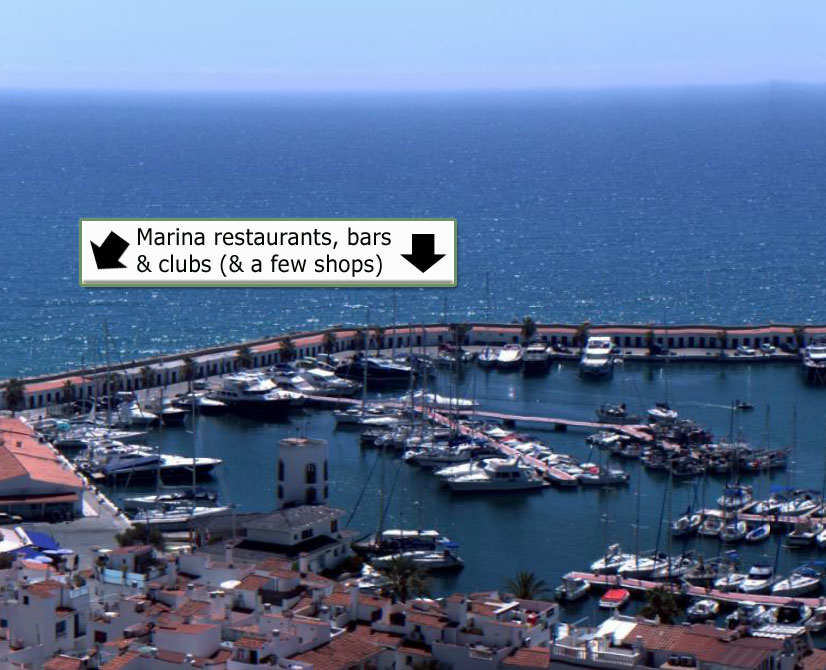 Which benefits from being surrounded by a marina, but is quiet compact, with the occasional top flats (Aticos) having big terraces.
Prices often reflect the compactness of the development. And the noise in summer or isolation in winter. Which some will like.
A big, relatively new, development sits past the Marina. With it's own tennis courts.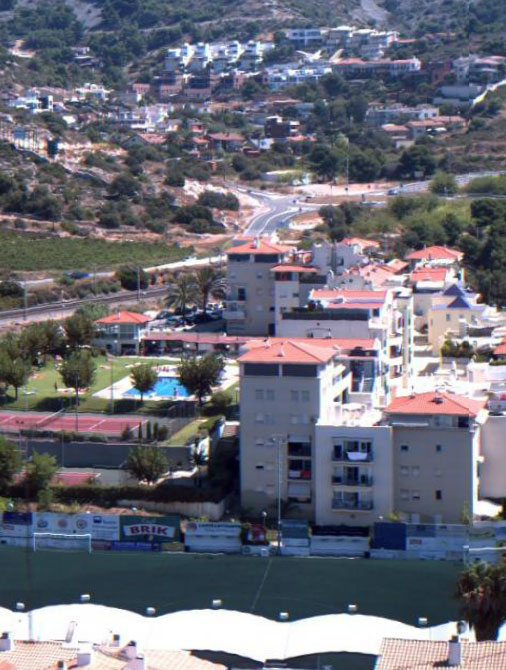 Front line apartments are far enough from the railway, which runs on the surface again at this point, to minimise sound. However all roof terraces will be in ear shot. Meaning prices can vary.
It is also a fair walk from the town.
But not as much as from the last community along the coast to the farthest Eastern point, on a hill. Punta Gaviota is reached through a wooded area or by car via the coast road (out of Sitges).
Past a few big villas, with their own grounds.
It is a lovely estate. Sat on a cliff, overlooking the sea.
Behind the whole of Sitges are Hills.
Which host several self contained communities, a short drive from town.
Many properties have spectacular views of the whole of Sitges & the sea. And the areas have sports facilities with tennis courts.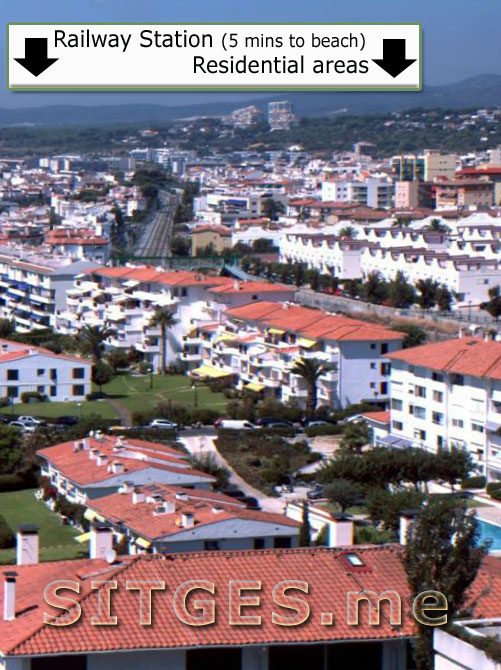 Accommodation can range in price, with many apartments & villas. Some are truly amazing.
Whilst all are largely built upon, Mas Alba represents the final 'wild west' area of Sitges. Close enough to reach Sitges town & beaches in 10 to 15 mins, but with plots to purchase.
Hills block views of Sitges, but are replaced by rural outlooks & surroundings.
There is some question over legalities, which one should investigate. Plus a fair amount of dog barking, when we visited last, as they protect empty properties.
Finally as we move into Garraf Natural park, proper, from this location… we reach many communities. 
2o mins or more, from from Sitges.
These areas are often called 'Sitges Hills' and can be quiet isolated. With big parcels of land & a real rural feel to them.
Access can switch between proper adopted roads, with street lights, to dirt roads. Some unsuitable for low slung cars.
This can happen after a nice road, as again the legalities can become misty. Causing the need to investigate & be careful.
Though lower prices & opportunities to develop can be the reward.
In short… whilst the beach front bargain days of Sitges are a decade or several away, there is a wide range of options.
In a wonderful location, that deserves it's high price tag, when compared to the Spanish norm.
For more information & consultancy services, contact BuyersAgents.co.uk