January 22nd , 2013 → 12:45 pm @ Sitges // No Comments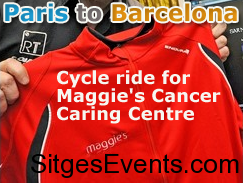 July 27th – 4th August 2013
Action Bikes Swansea (actionbikesswansea.co.uk : Facebook: @actionbikesswan) supplying: mechanics, bikes and clothing for this prestigious event
for Maggies Cancer Caring Centres (maggiescentres.org : Facebook : @MaggiesCentres :
In association with:
Last year raised over £75,000
Approx 85 miles per day
Starting from the French capital city of Paris
Ride through most rural parts of France's countryside
Through the Midi-Pyrenee
Along the Mediterranean coast
To city of Barcelona.
Itinerary
Day 1 – Travel to Paris.
Day 2 – Leave hotel bells ringing on our first morning.
Day 3
Day 4
Day 5 – There will be an opt out day if required,
Day 6
Day 7 – Arriving into barca bells ringing for our celebration night
Day 8 – Fly back to UK
Back up vehicles for those who may need the extra lift and lots of encouragement from our experienced team.
Previous rides include:
Paris – Barcelona
Rome to Home
Paris 2 Swansea
Raised over £150,000 for Maggies (biggest single fundraiser in the uk)
Media partners The Wave and Evening Post bring a huge marketing knowledge and experience. Many riders from both media giants have ridden our cycle sportif's, and European cycle challenges.
Join
http://www.sarnhelensportif.org
email: info@sarnhelensportif.org
Tel Shop: 01792 464640
Tel Mob: 07824325186
Or in person
Dicky or Dave
Action Bikes Swansea
Head Office Address:-
5 St David's Square
Swansea
SA1 3LG
Telephone:
01792 464640
Answer any questions
Help with suitable bikes for any of the events
Essential equipment for the rides
Many training rides through the coming months
Teach peloton riding
Day out on the 5th may 2013 of 80 and 115 miles called The Sarn Helen Sportif.
All of our riders are encouraged to attend this timed event
Will be put into groups of suitable abilities for the tour.
FAQ
How much do i need to raise
a: £1700 per rider
q: what's included
a: everything is included apart from evening meal, transport to airport
q: how fit do i need to be
a: we have a training programme set up for all abilities
Sarn Helen Cycle Events
Address:
5 St. Davids Square
Swansea
SA1 3LG
Telephone:
07824 325186
E-Mail:
info@sarnhelensportif.org