July 28th , 2014 → 2:32 pm @ Sitges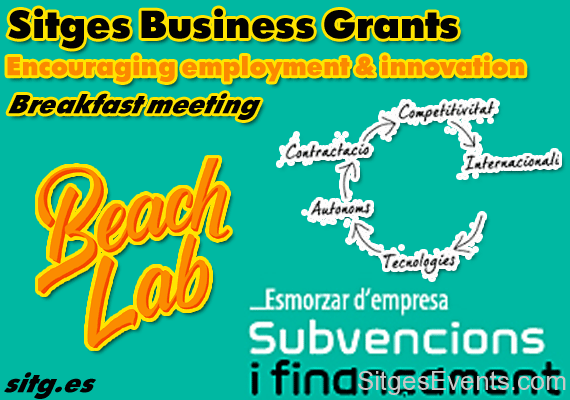 New subsidies to improve competitiveness of Sitges enterprises
Jordi Mas (Councillor Competitiveness and Employment)
Business breakfast July 31st
Gardens of the Casino Prado
€ 195,000 to promote employment in the city of Sitges
Create new synergies between entrepreneurs, business owners & unemployed
3 initiatives for hiring the unemployed
Help with monthly cost of funding the Special Self-Employed Social Security for 1 year (100% during the first six months, up 50% over next six months)
unemployed people to explore new employment opportunities with accompaniments like that will deduct the fee for those who choose to self via self-employment
grants for hiring people unemployed Sitgeans for a minimum period of 12 months
For businesses,  help with the cost of a study or consulting work for the internationalization,  of the product or service of the company. Also help with ICT as a marketing tool or process improvement management.
(information communication technology)
Aims to promote:
Internationalization of business
Application of information technologies and communication
Promoting the availiability of new grants
Building a network to share experience & encourage collaboration
To participate fill out a form on www.sitges.cat or go to the offices of the Center for Economic Initiatives(Centre d'Iniciatives Econòmiques)
Nivell 10, al carrer del Mestre Gabriel Pallarés, 12)
Program
Start 8.15 am
8.30 am Presentation of grants to businesses by Councillor Competitiveness and Employment, Jordi Mas
8.45-09.15 am Questions and answers
9.15-09.30 am "The digital revolution in business" by Francisco Sanchez, head of Sitges Beach Lab
9.30 am Closing discussion
10.30 am Closing
Discussion on digitization of finance and product presentations
Largely in Catalan
"Esmorzar d'Empresa", per conèixer les noves subvencions municipals i compartir experiències
Esmorzar d'empresa L'Ajuntament impulsa un paquet de 195.000€ de noves mesures per reduir l'atur i incentivar l'economia i el comerç.
Amb l'objectiu de presentar les noves subvencions i millorar la competitivitat de les empreses, el regidor de Competitivitat i Ocupació, Jordi Mas, ofereix un esmorzar d'empresa el proper 31 de juliol, que comptarà també amb una xerrada sobre la digitalització d'empreses i presentacions de productes financers. La trobada tindrà lloc als Jardins del Casino Prado a partir de les 8.15h. Segons Mas, "es tracta d'una forma informal i propera de presentar les noves iniciatives municipals per a emprenedors i autònoms".
El Pla de mesures per a la reactivació econòmica, de 195.000€, i el foment de l'ocupació a Sitges de l'Ajuntament de Sitges inclou tres línies d'ajut destinades a la contractació d'aturats, noves altes d'autònoms, la internacionalització de l'empresa i l'aplicació de les tecnologies de la informació i comunicació. Mas ha explicat que "des de l'Ajuntament considerem bàsic treballar en aquests tres àmbits en un moment en el qual la reactivació econòmica és absolutament necessària". La proposta, més enllà de les noves subvencions, té com a objectiu crear una xarxa, Networking, perquè els participants es coneguin i puguin crear noves sinèrgies entre emprenedors, empresaris i aturats. "La intenció és conèixer l'experiència d'altres empreses i poder formar punts de connexió i col·laboració", ha explicat el regidor.
Per als autònoms, s'ofereix la subvenció del cost mensual del Règim Especial d'Autònoms de la Seguretat Social durant 1 any, fins el 100% durant els primers 6 mesos i fins el 50% durant els sis mesos següents. "Un dels nostres objectius és afavorir que les persones sense feina explorin noves possibilitats d'ocupació amb acompanyaments com els que permetran bonificar la quota d'autònom per als que optin per la via de l'autoocupació", ha afegit Mas.
Per a les empreses, en canvi, s'ofereix la bonificació del cost d'un estudi o treball de consultoria per a la internacionalització del producte o servei de l'empresa, així com la bonificació del cost d'un estudi o treball de consultoria per a l'aplicació de les TIC com a eina de comercialització o de millora dels processos de gestió.
També per a autònoms i empreses, es posen a disposició ajuts per a la contractació de persones de Sitges en situació d'atur per un període mínim de 12 mesos, inscrites a l'oficina del SOC i a la borsa de treball municipal.
La recerca de recursos per oferir serveis a les empreses, fomentar la millora de la competitivitat o el coneixement de les TIC, són alguns dels objectius recollits en el Pla de Mandat del Govern Municipal.
Per participar a la jornada cal omplir un formulari a www.sitges.cat o adreçar-se a les oficines del Centre d'Iniciatives Econòmiques Nivell 10, al carrer del Mestre Gabriel Pallarés, 12.
Programa de la Jornada
8.15h Recepció dels participants
8.30h Presentació de les subvencions a les empreses a càrrec del regidor de Competitivitat i Ocupació, Jordi Mas
8.45h-09.15h Precs i preguntes
9.15h-09.30h "La revolució digital a les empreses", a càrrec de Francisco Sánchez, responsable del Sitges Beach Lab
9.30h Taules de treball
10.30h Cloenda
Tota la informació a
www.sitges.cat
Tags: fab lab sitges, fablabsitges, Grants, Sitges Business, Sitges Business Grants