February 16th , 2014 → 6:08 pm @ Sitges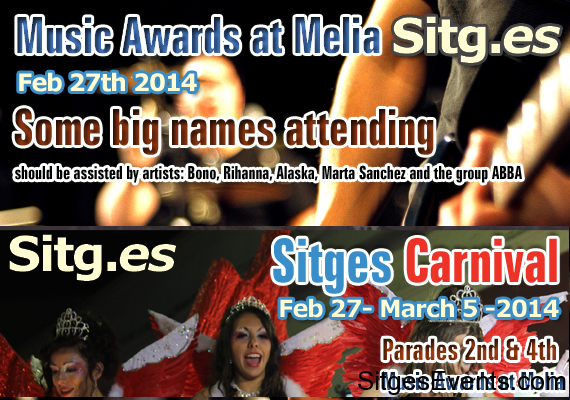 Big News : 27th Feb : World Music Awards in Sitges at Hotel Melia
This year is the arrival of the Melia as a venue to hold the World Music Awards ceremony!
Organized by Mr. Donald Drum, to find the best musical artist of the last two centuries: For group or solo, in all music styles. 
The event, should be assisted by artists: Bono, Rihanna, Alaska, Marta Sanchez and ABBA.
Thursday, February 27th
5.00pm. Performed by the Colla "A Tope" in Sitges Hotel Meliá Auditorium
5.45pm , 6.35pm & 7.25pm (Three performances)
There will be 3 sessions in the afternoon so many can enjoy the great spectacle
Session 1: 17.45h
Session 2 : 18.35h
Session 3 : 19.25h
Free tickets for entry via Colla A Tope at Cap de la Vila on
Sat 15th & 22nd February, 5pm to 10pm &
Sun 16th & 23rd Feb, 11am to 2pm
A wild, colourful and noisy 'Mardi Gra' type carnival.
With over 300,000 party goers, at it's height.
Sitges Carnival CONCERTS
"Rock in Sitges"
Friday, February 28 20hrs Cap de la Vila 
Will join the "creme de la creme" of the music scene Sitges, to form a group to provide new and one of the best concerts that were never listen-ing in this town. Tribute to music greats like the Rolling Sto-ple, Madonna, U2, Michael Jackson …
"Mitic BSO Music"
Saturday, March 1 19:30 pm • Plaça Catalunya 
Concert in Poble Sec, in exclusivity it, emblematic of the group not in Vene-Piel, make one-lar, commemorating the great musical movements of the late twentieth century beginning of XXI (Catalan Pop and Rock, The Movida …)
"Universal & Legend"
Monday, February 3, 19:30h Plaça dels Castellers 
In new houses in a very special goose-sion, will meet representatives from the world of pop and rock of the region, for its tribute to the legends of the world Universal Pop & Rock.
MAP & IMAGES BELOW (click for larger version: in new window)