January 14th , 2013 → 1:07 pm @ Sitges // No Comments
Nature, culture & history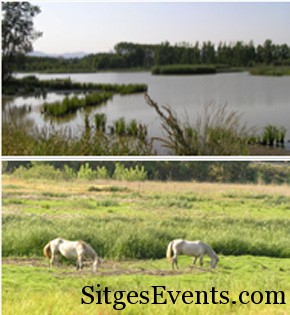 Natural protected area with ecosystem inhabited by birds and native flora
Next to the village of Sils , this protected area has regenerated a rich ecosystem, characterized by the presence of water birds and native flora of wetlands and floodplains. Follow the marked trail and discover this natural wealth.
Next to town of Sils (17410 Selva)
Near the station towards the car park
Natural wetland with marshes & meadows
Marked path with media on common wildlife
Small bridge across the canal
1998 restoration process that continues
Spring is good time to visit (but anytime, as wildlife varies)
Rain can cause some areas to be closed due to some flooding
Suggested Walking route

Difficulty: Easy via foot or bicycle
(some need mountain bike 16 km route)
Distance: 3.5 km.
Approximate length: 1.30 h.
Slope: no.
Tour Type: circular.
Signage: the entire route is signposted.
Time of year: you can do all year round, although the station is best spring. In times of heavy rainfall route section may become impracticable.
Starting point: Sils railway station.
Children: Yes, the route is completely flat and very easy. It can be an educational and didactic output at any age due to the natural attractions of the area.
Bring: binoculars, dull colored clothes, camera and a bird guide.
Also see : Town including 11th century Church of Santa Maria de Sils (XIII-XIX)
Telephone: (+34) 972 168 285
e-mail: info@sils.es
Site: costabrava.org : www.sils.es (site currently closed)