April 22nd , 2013 → 11:23 am @ Sitges // No Comments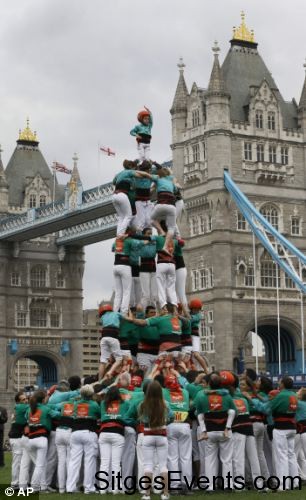 New Tower of London!
Human Towers Castellers de Vilafranca, UK debut
The Human Towers de Vilafranca
Pyramid (castells) of humans (castellers), on the bank of the River Thames
170 people Castellers (members)
Appeared at the Millennium Bridge in Southwark
And Borough Market, on top of a building
Due at Moorgate & Clapham Common
Did Manhattan in 2012Â  (commemorate World Trade Center rebuild)
Originated in 18th century Valis, near the city of Tarragona, in southern Catalonia.
'Castells' made an 'Intangible Cultural Heritage' by Unesco in 2010 and teams compete at competitions between April and September each year.
Pinya (bottom) can bear 770lb in weight
Men, women and children of all ages and sizes – climb barefoot on the shoulders of their colleagues reaching higher and higher
Enxaneta – small child at top, puts one hand in the air
Up to 10 levels high
7,000 castellers who belong to 66 different teams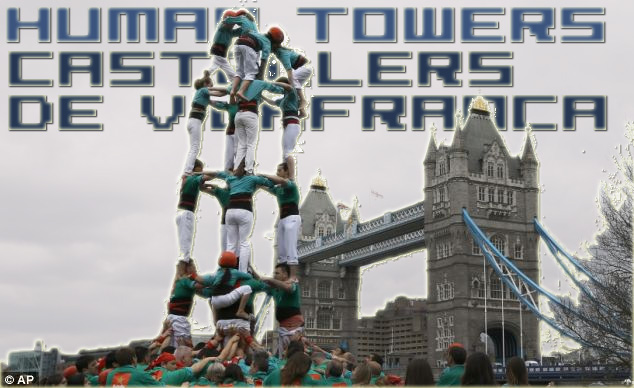 http://www.dailymail.co.uk/news/article-2311783/Leaning-Tower-London-170-people-climb-make-pyramid-humans-bank-River-Thames.html?ito=feeds-newsxml