December 16th , 2012 → 11:28 am @ Sitges // No Comments
(all on one page : summary version is here)
Bombing of Barcelona

First city in world where Air bombing targeted the public
During Spanish Civil War 1937 and 1939
192 – 194 raids by Mussolini's Italy and Nazi Germany, Fascist Franco's allies
Black-out's and the evacuation of children to the countryside, began
Started: 'March 16th 1937' at 10.08pm, for 3 days involving 44 tons of bombs
45 buildings destroyed and 75 damaged
Board of Defense and Local Defense Councils built 1,300-1,400 Refugis aeris (public air raid shelters)
Designed by Nationalist Engineer Ramón Perera (he advised the UK on shelters, later)
Built by civilians, often the old & young, that remained
Of around 1 million Barcelonians, many were injured and around 2,500 died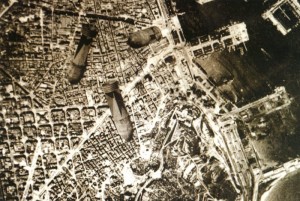 ---
---
Poble Sec 307

Number 307 : Carrer Nou de la Rambla, 169
TRANSPORT
4 mins walk (400 m) Carrer Vila i Vila (Paral·lel Station) to Carrer Nou de la Rambla, Barcelona, Catalonia, Spain
Around 90 built, just in Gracia (Google Map)

Built by a local, so it says, whose family reportably remain anonymous in fear of reprisals. Hidden by a glass factory & only recently re-descovered. As the populas reportably prefered to subdue memories of the war & the founding family.
Spanish or Catalan half-hour tours (book ahead for English or French)
Poble Sec shelter for 1,500 people, with three entrances
400 (some say 200) metres of vaulted tunnels into Montjuïc Mountain
Height 2'10 meters, width between 1.5 and 2 meters.  (ave 1.6 metres wide and 2 metres high)
Air for approx 2 hours, as no ventilation to avoid chemical warfare
With running water from the bedrock
Lots of subjects for dicussion, were banned, as were furniture & animals
Toilets, a fountain, nursery, children's room and fireplace
Local teenage girls acted as'nurses'in the infirmary, as Doctors were on the front line
Involves, as many do:
Air raid soundtrack (planes flying low overhead, whistle of bombs approaching and mayhem)
Information on it's use, it's hardships (limitations)
Address: Nou de la Rambla, 169
Phone: 932 562 122
How to get there: Metro L2 and L3, stop Paral.lel. | Bus 20, 21, 36, 57, 64 and 157.
Web site: www.museuhistoria.bcn.cat
E-mail: museuhistoria@bcn.cat
Opening times: Saturday & Sunday, from 10am to 1pm. From Tuesday to Friday, only groups with reservation.
CLOSED: January 1st, May 1st, June 24th & December 25th
Metro: L3 at Paral·lel
ALL INFORMATION SUBJECT TO CHANGE
---
---
Plaça del Diamant

Number 232 : Refugi de la Plaça del Diamant (Plaça del Diamant Bomb Shelter) (Google Map)

TRANSPORT
1 minute walk Fontana Station to La Plaça del Diamant 08012 Barcelona
Beneath Plaça del Diamant in Gracia
Well preserved and restored since, re-opened in 1992
Though original, with smoke marks from Oil Lamps & candles
250 meters of tunnels with infirmary
12 feet underground, 2 levels for 200 people
Spans the length of Calle de les Guilleries
3 galleries from east-west and 3 north-south
Electric lighting via three parallel cables spanning porcelain insulators on the ceiling
Basic Male and female toilets
Address: Carrer Nou de la Rambla 169
Area Montjuic & Poble Sec
Transport: Metro Paral·lel
Web site: www.gracianet.org/refugis/welcome2.html
Telephone: 93 256 21 22
(guided tour by appointment only)
Opening times: 11am, noon, 2pm (Catalan), 1pm (Spanish) Sat, Sun
Admission: €3
Grace History Workshop with highly qualified historian explains most of what you
932 196 134 or via e-mail.: taller@gracianet.org
ALL INFORMATION SUBJECT TO CHANGE


View Larger Map

---
---
Sant Adrià

Plaça Francesc Macià, 08930 Sant Adrià de Besòs, Barcelona, Spain (pl. of Villa, 12) (Google Map)

TRANSPORT
14 mins (1.1km) walk from Sant Roc Station Badalona to Plaça Francesc Macià
However… Sant Joan Baptista Tram on T5 is next to Shelter
Opened, after renovation, 11 September 2006
On a single level, for 80 to 100 people
Museum with interactive & audio visual information.
"Children Besòs Plan" contains testimonies of five children
Historical images
Visiting hours: Last Sunday of each month 11 am to 2 pm (All tours are, reportably, free)
Group visits: be arranged by calling Sant Adria de Besos council
(tel. 609 03 38 67. Jorge Vilalta)
After the tour, you can see the documentary "Children of the Besòs Plan" at the House of Culture.
Website: www.barcelonabombardejada.cat/?q=ca/placeta

ALL INFORMATION SUBJECT TO CHANGE


View Larger Map

---
---
El Clot (no public Access)

Carrer de Mallorca, 662 08027 Barcelona, Spain (Gooogle Map)
Shelter built by the residents of the building and neighboring houses
A sparsely populated area at the time of Civil War
Different entrances allowed access, amongst the buildings, with one in Carrer Mallorca, 662
There is a Ventilation shaft from the shelter
But no public access (so we read: http://refugisantiaerisdebarcelona.blogspot.com.es)
ALL INFORMATION SUBJECT TO CHANGE


View Larger Map

Bombing of Barcelona on Wiki (March 1938)
All barcelona air raid shelters on the map


View Barcelona Refugis Aeris : Air Raid Shelters via SitgesEvents.com in a larger map

OUTSIDE OF BARCELONA
---
---
La Garriga

La Garriga, Avinguda Pau Casals, La Garriga, 08530, Catalonia, Spain
76.5 km, 57 mins via C-32 (directions from Sitges, via Barcelona)
Air-raid shelter, opposite the la Garriga train station), dug directly into the granite rocks
Built in 1938 with 110 metres of galleries
Air raids such as the one on January 29, 1939 (15 died)
Guided visits: the second Saturday of each month, at 11am and 12 noon.
Visits can be arranged for groups
First Catalonian bomb shelter museum in 2006 with audiovisual resources and simulated bombing
Exceptionally well preserved
Talk about the war between a grandmother and her grandson, and from the comments of two international soldiers
Phone: 938 605 663 or 938 605 050
E-mail: turisme@ajlagarriga.cat Web: http://www.visitalagarriga.cat
Free admission for children up to 8 years.
La Garriga has several other major sites associated with memories of the war and heritage of local people
Website: www.aviacioiguerra.cat/espais.php?id=17


ALL INFORMATION SUBJECT TO CHANGE


View Larger Map