March 18th , 2012 → 7:36 pm @ Sitges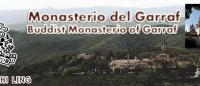 Sakya Tashi Ling
One of four buddhist schools from Tibet
Begun in July 1996, the community moved into the Plana Novella palace, deep inside the Garraf Natural Park, 40 minutes away from Barcelona, Spain, becoming the first buddhist monastery in Catalonia.
Fouded in 1986, the Sakyapa tradition follows the ancient order of the spiritual leader His Holiness Sakya Trizin, a king from ancient Tibet. The monastery is ruled by Venerable Lama Jamyang Tashi Dorje.
Handicrafts (incense, perfumes, objects related to the practice of Buddism )are availiable in the shop.
Parking
IT IS OPEN ALL DAYS, EXCEPT
NON HOLIDAY MONDAYS
Parc Natural del Garraf
Palau Novella 0881 8 Olivella
(Barcelona) ESPANA
Correspondence:
Aparrado de Correos 226
08860 Castelldefels
Tel(O034) 902 503 353 /
(0034) 937 432 01 0
BUDHISTS MONKS FOUNDATION
SAKYA TASHl LING
Website: sakyapa.org for list of events
22.7 km, 37 mins from Sitges via the BV-2111

View Larger Map