March 31st , 2012 → 9:22 am @ Sitges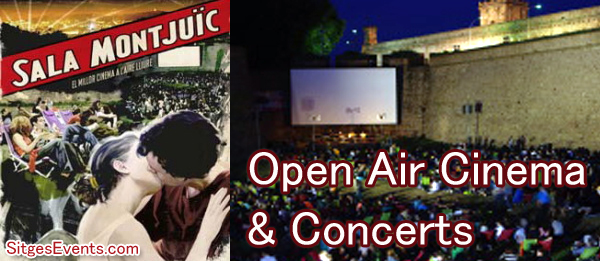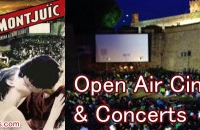 Sala Montjuïc  : www.salamontjuic.org
Set in the gardens of this historic castle, these summer events make a fantastic change and a great day,  or just an evening, out from Sitges
(around 42.0 km, 40 mins from Sitges)
Carretera de Montjuïc, Barcelona, Spain
OPEN AIR CINEMA
Schedule
Every Monday, Wednesday and Friday 20:30 from them.
Admission: 5.00 euros
Lounger: 3.00 euros
* In case of suspensions for rain, not The organization's return or enter or the rental of paid time to be lazy.
In contrast, if the suspension is session for technical reasons, in another entry for the day will be worth it if the present locker ticket.
FOR TICKETS SALES:
2.000 tickets available at the box office every day from 20:30 or sell them through ServiCaixa advance (tickets are limited )
* Limited
ACCESS
Venue: Montjuic Castle gardens, moat Santa Eulalia
→ You can access by car, motorcycle, bike or cable car.
→ Service of TMB launched in December of them towers of the Plaza de España from them 20:30 (Free integrated with rate BMR). Only when download is finished the movie role.
CONCERTS
In update
ALL CONCERTS START AT 21.00
Stage sponsored by Damm
JULY 04
Sanjosex
Pop by author
To gain perspective to steer clear of the path, climb and gain distance. From the outside, Carles Sanjosé look in the mirror to see who is and where it comes. Or rather: who we are and where we came from. He invites us to immerse ourselves far beyond the everyday to suggest the letters. Carles Sanjosé cleans: while removing dust and sweep the house, away also the things that distracted and points to the deep essences. In pop music in the truest sense that we all have written in the DNA we are conscious or not. His music draws from land based sources and also has his feet firmly nailed to the present day. Without giving up his personality or his sound, Sanjosex seeks and finds the essence, a music-minded cord and a land of many centuries.
MIQUEL Sospedra: bass and vocals
CARLES Sanjosex: guitar esp. / Elect. and voice
XARIM GRAPEFRUIT: guitar elect. and voice
PEP MULE: drums and vocals
RICHIE ALVAREZ: keyboards and vocals
http://www.myspace.com/sanjosex
JULY 06
Cargolé
Flamenco
Cargolé is a project that interweaves the nature and sensitivity of the flamenco guitar with the freedom of contemporary music, seeking to create intimate atmosphere where the viewer can get lost in your notes and harmonies.
CARLOS PEREZ: "the Caracolita" guitar
SERGIO DI FINIZIO: low
NANDO HEREDIA: percussion
EMILIANO GUGLIEMINO: violin
IZABEL LAURA: palms and voice
Laura Guiteras: voice
www.myspace.com / Cargolé
JULY 08
Laia Fortià Quartet
Jazz
Project led by Laia Fortià that accompanied the voice of Clara Moon, piano and bass Marco Mezquida Marko Lohikari aims to discover the viewer's original compositions including topics as Clifford Brown Joy Spring emblematic or other as unknown Daahoud and forgotten as LaRue, Tiny Capers and George's Dilemma. The distinctive element of the proposal is the turn acquire the items being adjusted by the voice, as the arrangements and letters (some in Catalan and some in English) that appear are composed Fortià Laia.
LAIA FORTIA: drums
CLARA MOON: voice
MARCO MEZQUIDA: piano
MARKO LOHIKARI: bass
http://www.myspace.com/laiafortia
JULY 11
I Seresteiros
Bossa nova, jazz, samba
Seresteiros I was born in Barcelona in late 2008. Musicians of classical and popular sources, venture into the subtle world of bossa nova. With a style of refined melodies and rhythm, achieved in the combination of instruments to convey the legacy of what we now know, is a genre that will in time. They play a repertoire of representative authors such as Antonio Carlos Jobim, Baden Powell, Vinicius de Moraes, Carlos Lyra, along with pieces of genre predecessors – like samba – styles and other issues brought to the field of bossa.
LORETO MUÑOZ OSORIO: cello and voice
FELIPE CONTRERAS: bass and vocals
DAMIAN DICHI: guitar and vocals
Músic convidat:
Camilo Zorrilla: percussion and vocals
http://www.myspace.com/osseresteiros
13 JULY
Luca Tondena Quartet
Jazz
Luca Tondena Quartet, was compacted in late 2007 following a common interest in composition and performance of jazz, in the classic, to express the concerns of everyday life, affected by some of the musical currents of twentieth century. Comprised of four musicians from different backgrounds, the quartet works a style around a contemporary language, through compositions influenced by musicians like John Scofield, Kenny Garrett and Pat Metheny, among others. In last December 2010 Luca Tondena Quartet recorded at Estudios Laietana his first album, to present to the public Catalan new material the group.
LUCA Tondena: tenor sax
DANIEL Ujueta: electric guitar
ALEX MOLAS: bass
RAMIRO ROSA: drums
www.myspace.com / lucatondenaquartet
15 JULY
Andreu Zaragoza Quatriometry
Jazz
Andreu Zaragoza quartet explores the sound of his compositions with the symbiosis of hammond and guitar as a structural element. Contemporary post-bop with high doses of interactivity between the four musicians that make the code a starting point to find a complicity that can engage the public. Members of the training are some of the most active and prominent of the Catalan scene of the last decade.
VICENT MacIan: tenor sax
ABEL Boquera: hammond
RAMON PRATS: drums
Andreu Zaragoza: guitar
http://www.myspace.com/andreumusic
JULY 18
Paulinho Lemos Quartet
Bossa nova
The quartet will present music from the new CD "Café com Gelo" some music from previous albums and also some pearls of Bossa Nova, considered one of the most important musical movements in Brazil ever since.
PAULINHO Lemos: vocals and guitar
EBBELER DIEGO: Piano
ADRIANO SANTOS (Dinga): low
TOSCANO SALVADOR: drums
www.myspace.com / paulinholemos
JULY 20
Blas Picon & the Junk Express
R & B
This is a trainload of waste product of life all copies, that runs rampant on the rails of the Blues without fear of derailing. Trio that focuses on the austere side, stark and virulent Rhythm & Blues, leaving aside frills and fanfare music to focus on the guts of this style. With references how Jerry McCain, Kid Thomas or "Papa" George Lightfoot, The Junk Express includes the basics, so often discarded, which make up this musical tradition and carries on a train by name. Raw sound and energetic attitude … Blues in its essence.
REGINALD VILARDELL: drums and gears
OSCAR RABADAN: guitar i boiler
PICÓN BLAS: vocals, harmonica and whistle
http://www.myspace.com/blaspicon
JULY 22
Névoa
Jazz, Fado
"Estranya lifestyle" is a jazz approach to some parts of the repertoire of Amalia Rodrigues on the tenth anniversary of his death to honor a great artist who does not put limits on the expression of his talent.
Névoa: vocals and guitar
VICENÇ SOLSONA: acoustic guitar
GUILLERMO PRATS: bass
ÀNGEL RAMON KING: drums
http://www.nevoa.com/
JULY 25
Mala Junta Trio
Gipsy Swing
The swing is a constantly evolving style and Mala Junta Trio is a good test as it plays with unusual arrangements, parts of Django and Oscar Rheinhard German, among others, offering an exquisite repertoire for lovers of gypsy swing and jazz.
LUCAS TURQUIE: guitar
GERMÁN PRIETO: guitar
ROY APARTIN: low
www.myspace.com / malajuntatrio
27 JULY
Oh. Peta …!
Flamenco fusion
Traveling from the Son Jarocho and Cuban, to Reggae and Rumba, the melodic form the basis of the plot "Oh. Peta … ", closing the circle with French traditional music, Irish and Italian, creating a free sound, rhythmic and energetic party animal.
OSCAR "El Jarocho": 6 and 12 string guitar, cajon, voice
MARION "Redstart" Djembe, Recorders, Cajon, Vocals
CORSAGO "Viking": Violin, Tamani, Clubs, Choirs
MICHELE "Paccar": Bass, Ukulele, Vocals
RAFA "Majete": Accordion, Percussion, Choirs, dance
www.wix.com / ohpeta / ohpeta
JULY 29
Gafieira Miúda
Samba
Gafieira is a place, a behavior, a dress, a popular dance games, a style of samba played by a dance band. The quintet was formed Gafieira Miudes in Barcelona in 2010 and wants to musically reinterpret this tradition, presenting a repertoire updated arrangements of their own authorship.
CAMILO Brasiliano: singer
CHRISTIAN Salles: drums
PAUL Galak: sax
RAMON PINHEIRO: guitarist
ALEXIS ORTEGA: trombone
ARC ROSA: percussionist
RODRIGO BEZERRA: baijista
http://www.reverbnation.com/gafieiramiuda
01 AUGUST
Sam – Unknown World
Jazz, Italian
Sis is a formació of instruments to proposa a Espectacle Divertit i Captivador combinant composicions them originals semper i els Classics of Italian and international music.
SEBASTIANO FORTI: soprano sax, clarinet and voice
NANDO DI COSIMO: waterspout and voice
GIUSEPPE DI Lascio: tenor sax
Gavini MAURO: guitar
STEFANO FOX: guitar
EDU NOFRI: percussion
http://www.myspace.com/sebastianoforti/
AUGUST 03
Saia Drum
Brazilian Music
Musical training in order to disseminate and promote the diversity of rhythm and sound Amazonian country. Through their voices, percussion and dance show "Blood Trail," a musical journey that travels to Brazil where they spread the sambas, a stem of coconut, and a multitude maractú rhythmic variety and folklore of each region .
ANNA BLACKSMITH: vocals, drum foil, Abe, agogô, palms, ganza, alfaia
CECILIA Debergh voice, patamgome, gunga, congas, pandeiro, alfaia serious, cavaquinho, maracá
IARA MODEROZO voice, caixa of folia, agogô, palms, surdo, acute alfaia
TAIS Balieiro voice, patamgome, gunga, conga, palms, triangle, caixa, rattles
VAL PLAZA: voice, folia drum, conga, pandeiro, alfaia, caixa
VIVIAN AMARANTE: voice of folia caixa, surdo, pratinho, palms, gonguê, rattles
www.tambordesaia.com
AUGUST 05
Vermouth Time
Soul, jazz
The quartet was founded with the intention to make up work and recreation of a style in the 60s: The Soul-Jazz. Time Vermouth's repertoire consists mainly of original compositions. After an analysis and understanding of the elements that identify the style, has made a work of original composition that recreates, in order to survive the festive music of black roots.
MARC MENA: trumpet and flugelhorn
SERGI FRANCH: sax tenorr
VICTOR DOORS: Hammond B3 and vocals
SEBAS CORBELLA: guitar
RAUL LORENZO: drums
http://www.myspace.com/vermouthtime

View Sala Montjuïc in a larger map
around 42.0 km, 40 mins from Sitges